Sonam Kapoor's Seven Cannes Looks we Loved! ~ Style Files
While the diva Sonam Kapoor rocks everything she wears, there are some outfits she donned at the Cannes Film Festivals which were truly unforgettable! Something about the style, the elegance, and the dreamy feel about those outfits never left our minds!
While we admit it was hard to choose, here is a compilation of seven best looks Sonam has sported at Cannes till date:
#Look 1
It might seem ages ago but this gown by Jean Paul Gaultier remains one of the best looks Sonam has sported to date!
I think this was the time Sonam actually started establishing as a Fashion icon!
Sporting Dolce and Gabbana, Sonam looked like a doll in this hot pink outfit! Love how she styled it!
Apart from the Victorian touch, this gown proved to be another stunner from Sonam at Cannes!
This was the recent stunner Sonam carried at Cannes 2014! Everything from the stunning updo, perfect makeup and fit of this gowns compliments Sonam's beauty!
This was an outfit which came as a true stunner. The subtle Indian-retro mix and the intricate net detailing truly stood out among the sea of western outfits worn at Cannes. While we feel a little addition to her hair would have added to the beauty of its outfit, we agree that it was a stunner nevertheless!
Doesn't this simple yet elegant Elie Saab look gorgeous on Sonam?! Such a perfect choice for a Loreal event while at Cannes!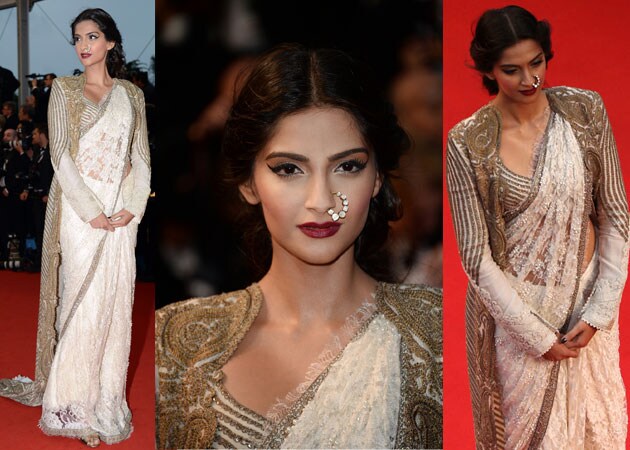 Another Indo-fusion flick by Sonam we truly fell in love with! The classic traditional Nath gave a bold Indian look to this outfit and the lace detailing was simply superb!
Which is your favorite pick? Let us know in the comments below!
Love,
~Bushra
P.S: The #Nailfie contest has been updated.Now you can enter even if you don't have a blog!