Celebrity Style: Masaba Gupta During Her Wedding Celebrations
Masaba Gupta's wedding
Famous Indian based designer Masaba Gupta tied the knot with Film producer Madhu Mantena officially a few months back and chose this month to celebrate the same with close family and friends. The celebrations kicked off a a friends place in JUhu and lasted for three day.Her outfits she sported at her wedding, reception, Mehendi , bridal shower and sangeet came as a surprise. She wore the most weird looking clothes to her wedding celebrations. We all know she is a designer but that doesn't mean you dress up in lackluster clothes. Most of the outfits she chose to be spotted in were shouting ' JUST FOR THE RAMP', which made me think if she broke up wit her BFF , I mean if all goes wrong there is always your bestie who would point out what is wrong and weddings are something were your friends advice you the most.
She is youthful quirky apparel designer and selecting the same quirky clothes to wear on her wedding was a bad decision from the start. Congratulations to the newly wed but I do wish Masaba had chosen for bridal clothing instead of trying to look different on her own wedding. Many other celebrities in attendance to the wedding celebrations wore better clothes than the bride and bridegroom!
Masaba in Anamika Khanna - Wedding Reception Outfit
Masaba Gupta reception
I love Anamika Khanna outfits but Masaba choose this hideous outfit from all those pretty Anamika Khanna designs for her reception! Everything about the look is wrong, the hair the bust fit , the jacket is worst !
And not the bridegroom won't be spared either! He should have put in a little extra effort to look good on a reception. Black on black looks dull and its an outfit my brother would have chosen to wear at a family function , forget a reception !
Masaba Gupta In her Own Designs – Bridal Shower Outfit
The outfit looked more of a party look than a bridal shower one. The polka dotted top with a retro effect was a downer itself and the pants look boxy on her. A total nay from us !
Masaba in Sanjay Garg – Sangeet Outift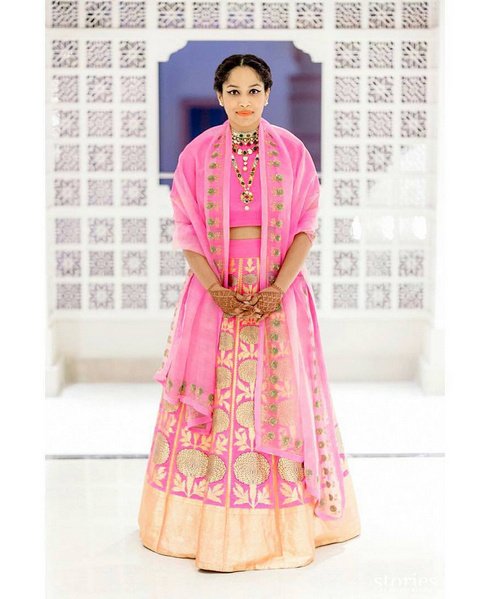 Masaba Gupta sangeet
The only outfit I found pretty was the one she donned on her Sangeet, maybe it's the color, it looks pretty on her. The hairstyle could have been better but there is no doubt this is dream outfit for many .
Masaba Gupta in Her own designs- Mehendi Outfit
We would have preferred some color for a mehendi outing . The white kurti along with the matchy sharara (or is that a lehenga?) just don't work here. But it is a nice outfit considering the other disastrous outfits she chose to wear.
What do you think of her clothes, are they fit for a bride ? Yay or a nay? tell us!
Until next time
Love
Najmun Nissa