Mrs India Worldwide 2016 - Live Your Dream!
Marriage
is something very divine. It's the beginning of new opportunities, the process of unwinding emotions you never knew existed and the chance to live the fairytale you have always dreamed of.
But it's sad to see that some women take it as the end of their dreams and
their career
. I have never understood why such pure a bond as marriage is so badly misunderstood.
My dear friends! I want to tell you something from the bottom of my heart -
Marriage is no obstacle to your career!
On the contrary, it's a stepping stone towards your success. It only means that you are not going to face those
demons all alone
, there's going to be someone who dearly loves you right by your side no matter what.
Every woman has the right to live her dream and marriage is no barrier! To prove the same, here's presenting you the
Mrs. India Worldwide 2016 Beauty Pageant!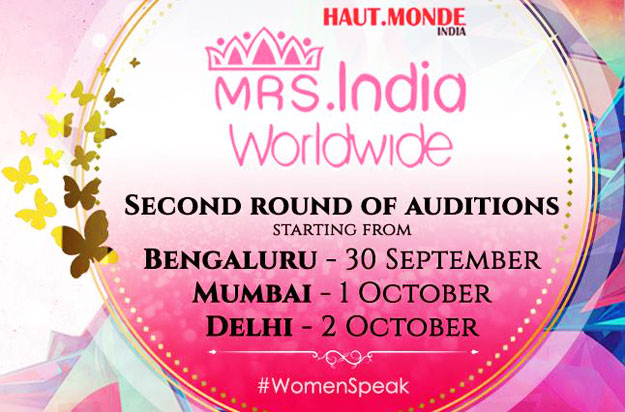 What is Mrs. India Worldwide ?
We all have had that urge in us to be a star at some or the other point of our lives. A dream which we thought was broken when we got married. But hey! Turns out we were wrong. :) Mrs India Worldwide is a
beauty Pageant
for every
Mrs
out there who wants to showcase her talent and fulfill her dreams of being a
beauty queen
.
This event will be organised by Haut Monde India and the auditions for 'Mrs India Worldwide 2016' pageant will be conducted in the 3 major cities of India starting from the 30th of September 2016.
How do I register?
It's simple. You just need to register online on there website and be there at the audition venue in your selected city.
The Spoils?
The fun doesn't stop there, if you are selected you get to visit Dubai for the Grand Finale event to be held in the coming month of December/January. You also get 2 weeks of grooming for Makeup, hairstyle, costume, personality development by the finest from fashion fraternity for the finals. All this and some exciting parties to unwind and chill while you fulfill your dreams.
So make sure you don't miss this golden opportunity as
30th September 2016
is the last date for registration for auditions
here
.
Note the dates for the auditions for Mrs India Worldwide 2016:
1. Bangalore Auditions:
Date -30 September 2016
2. Mumbai Auditions:
Date – 1 October 2016
3. Delhi Auditions:
Rules of the Pageant:
The applicant should be between 23 to 45 years.
The applicant should be married.
The applicant should be a Indian born.
We at Bling Sparkle encourage every Mrs out there to audition for this event! Go register for that audition like NOW! You never know my dear, you could be the next big sensation of India. ;)
Here's a sneak peak into the Mrs. India Worldwide 2015 Beauty Pageant Staged In Yangon:
All the best! \m/