Cannes 2015: Sonam Kapoor brings drama to the Red Carpet
Iam a Sonam Kapoor Fan girl and it is no secret and obviously it was Sonams Red carpet appearance that i was looking forward to most at Cannes. Sonam always manages to do something different when at cannes I loved both her red carpet looks from Cannes last year , her Anamika Khanna was path breaking the elie saab was pure elegance. (Catch complete coverage of 2014
here
). So what did the desi fashionista turn up in this year? did she live up to her image and expectations? lets find out
Sonam chose an electric blue Ralph Russo Couture gown for her first red carpet appearance at the 'sea of trees' premiere at the Cannes film festival. The dramatic gown with its balloon like detailing was finished out with chopard earrings, matching sandals and side swept hair.
The blue was striking colour and her hair was done fabulously. The make up is what i had issues with! Ironical how Sonam is at cannes as a make up brands( LO'real) brand ambassador and her make up is what pulled this look notches down. The coral lip doesnt work, her cheeks are over bronzed and her dark circles are on verge of showing up.
The gown itself wasnt my cup of tea, i hated the bottom half of it, the trail wasnt good either but the overdone make up is what really stands out in the wrong way in here. Better make up would mean this look would go up as another of her Epic cannes wins! But as it stands the look was good, Sonam true to her image despite make up issues pulls this off like only she can . I'll take this over boring stuff Katrina wore anyday.
For her second red carpet appearance Sonam Kapoor disappointed big time in an over dramatic lime green Elie Saab Couture. Firstly i was expecting an indian fusion wear like the Anamika saree gown from last year but sonam went for the most disastrous gown out there . The feathered bust was definitely overkill and the hemline wasnt helping either, total Lady Gaga vibes here . Going for middle parted sleek hair also couldnt balance the volume of the gown . Pink lip and chopard earrings finished this look for sonam.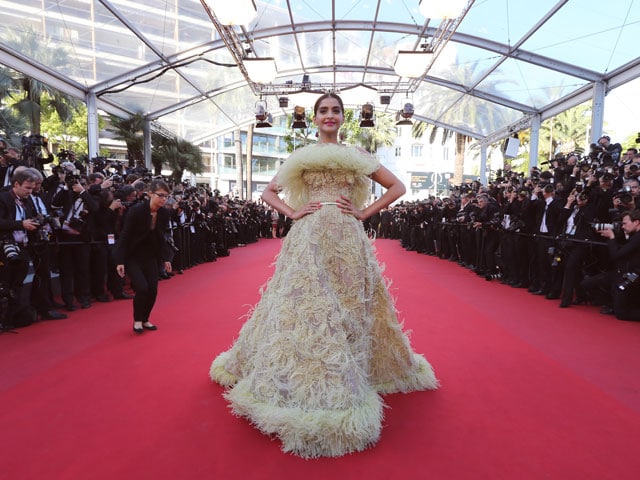 The make in this look was better than the blue gown look but i sonam still looked tired .A better make up could have done wonders! Loreal are you reading? (even Katrinas make up wanst any good BTW) And again Sonam also has her hair coloured, wonder whats happening.
Apart from the red carpet appearances sonam was spotter at after party and press meets where again sonam went overboard , in a nice way that is but her recent excessive boob show bothers me.
For Chef Vikas Khannsa book unvieling sonam showed up in cream Ashi Studio dress with plunging neckline. Loved this look and the styling here. It ofcourse felt a bit too much and bridal too for a book launch but this is Sonam . Also note how fresh she looks here, this is kind of make up her Red carpet deserved.
It was dramatic structured to and skirt by Abu Jani Sandeep Khosla for chopard party . I like the styling here but the top itself isnt something i graviate to. But Sonam pulls this off with grace.
Did anyone miss an Anamika Khanna this time? I sure did. Over i have mixed feelings about Sonam at Cannes this year . Her last year was fabulous in comparison.
Which look did you love from sonam on her Cannes 2015 journey?
Catch Katrinas Cannes Journey
here