#ShahidKiShaadi - Shahid Kapoor Weds Mira Rajput
There has been a lot going on with our life offline in the past month all thanks to Ramazan. While we were busy shopping, fasting , praying, iftaar parties and preparing for eid the chocolate boy of bollywood tied the knot to Delhi girl Mira Rajput in a not so fat wedding .
I know iam really late to cover this wedding but Mira Rajputs choice of clothes for all her wedding ceremonies are simply amazing and i HAD to talk about them all .
Lets start with their love story. Shahid kapoor and Mira Rajput 21, who just graduated from LSR college reportedly met at a Radha Soami Satsang which both their families follow. How bollywoodish is that now? To add to things every time i look at a Mira Rajput Photo i find her more and more similar to Amrita Rao. what do you think? The wedding for fairly simple considering it was the most awaited bollywood wedding and i love how subtle Mira kept her outfits.
Mehendi cum sangeet
: Mira Rajput kept it simple and breezy in an Yellow and peach Anita Dongre lehenga choli . Mira dint go overboard with floral jewellery and i love her tikka here.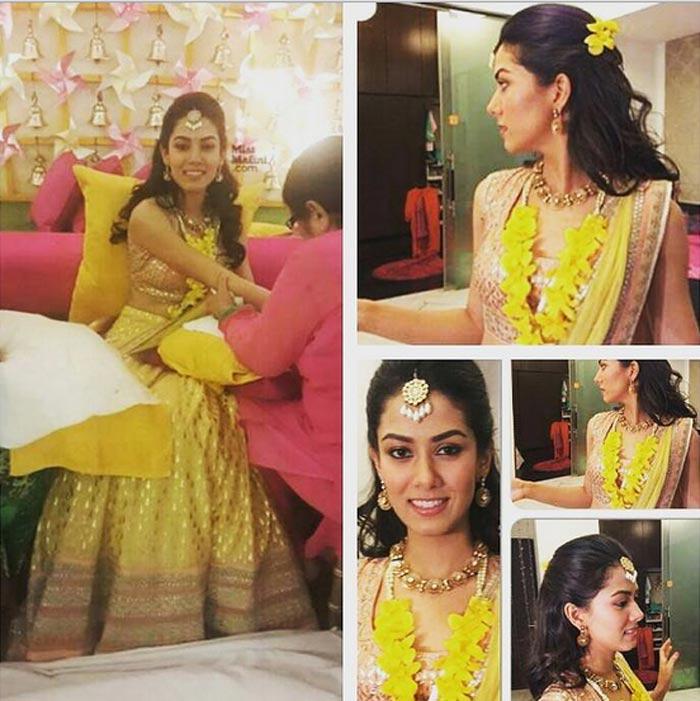 Haldi Cum Kalire ceremony :
Mira sure loves yellows and pinks. For haldi she wore a yellow kurta with white plazzos and mogra tiara and haar .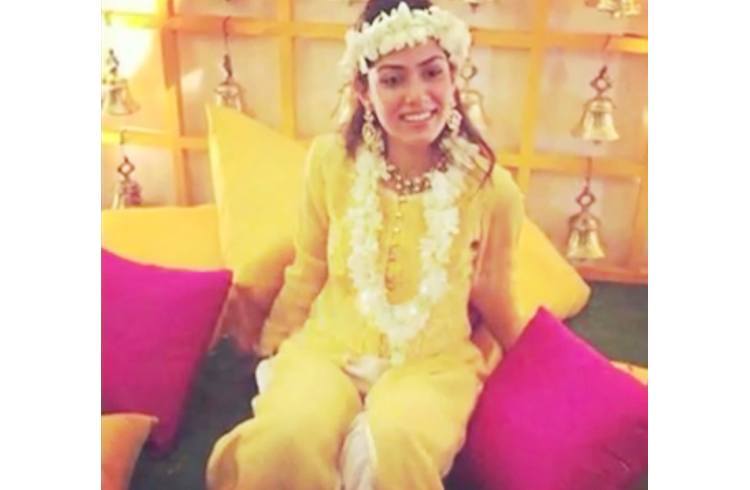 The Anand Karaj
: Shahid and Mira took vows in an Anand Karaj ceremony and for this Mira was spotted in apale pink and green gota patti salwar suit. Mira kept the jewellery to minimum here and again opted for her pretty Mang Tikka.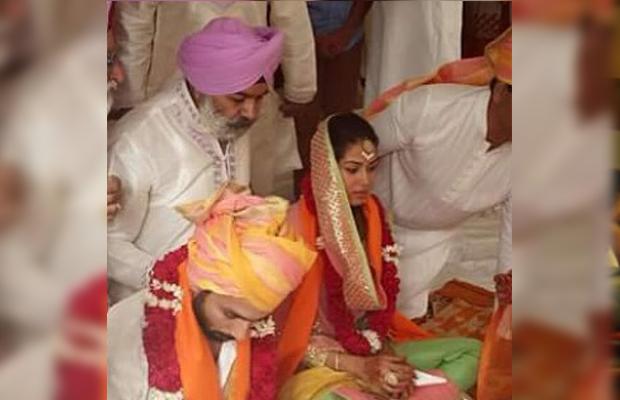 Post wedding Party :
I say post wedding party because the couple did not take any pheras in the lehenga, also Shahid and Mira had two separate receptions later on . For this occasion Mira chose a pink Anamika Lehenga which is my favorite outfit from her entire wedding. It was simple , elegant and fresh. The styling was perfect with double dupattas, navratna haar, jhoomar , pink choodas, hair in a floral bun and soft Make up . I love love this whole look and Boy does Mira have amazing choice? She definitely is the next Fashionista of India. Shahid looked equally amazing in his white kurta. They made for a lovely couple.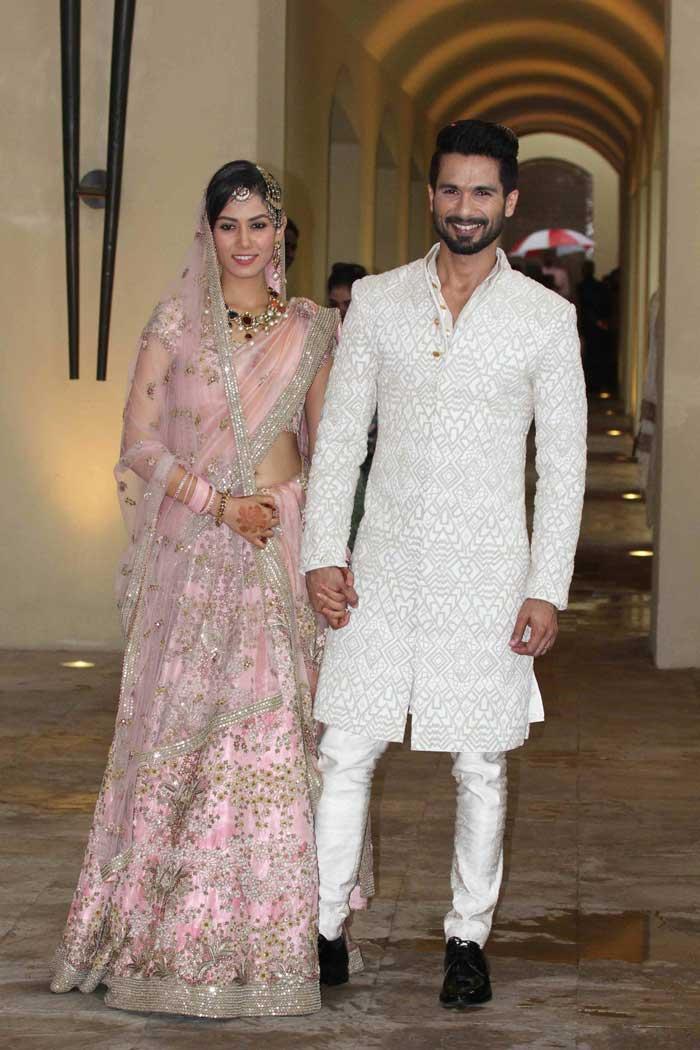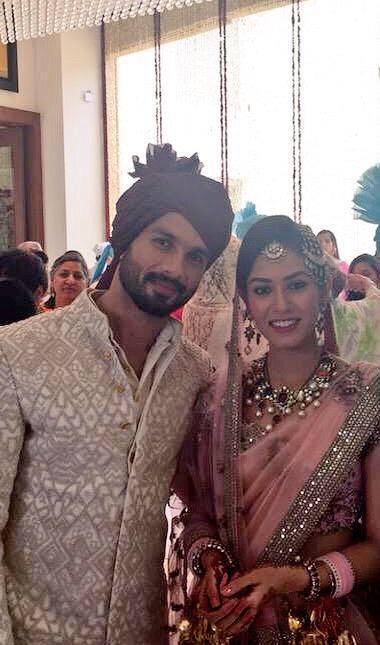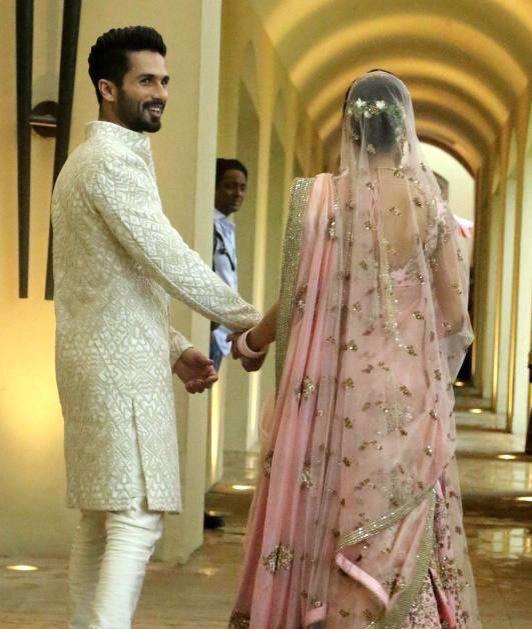 The couple was spotted with yellow rose jaimalas . how cool is that? I prefer to genda and mogra haars anyday.
Delhi Reception:
For the Delhi Reception Mira wore a pastel Anamika Khanna creation . This look featuring a gown with cape detailing was pretty modern and Kudos to Mira for taking the risk. I love capes but cape on a saree would have taken things to a whole new level , this gown + cape isnt my cup of tea though .
Mumbai Reception :
For the Grand finale of sorts for this most talked about wedding of the year Mira Rajput chose Manish Malhotra white lehenga with blue embroidery on it. Pairing the lehenga with a crop top and just nirav modi earrings Mira was a vision of subtleness, confidence and simplicity . The Lehenga which was part of Manish Malhotreas latest Blue Runway collection dint find a fan in me and i definitely dint think of it to be bridal but Mira provesit all wrong and wears it so well.
First look at her outfit and i instantly missed a dupatta . May be she could add some bangles or even a bindi to her look but the more i look at her , i less i mind her non bridal ensemble. She looked amazing and it was her day lets give it to her for sticking to her individual style and loading herself with jewellery and bling .
As for Shahid he wore a Kunal Rawal tuxedo and bow tie. I wish he could match the bride better witrh a blue bow , but well they looked fabulous togethera nd that is all that matters.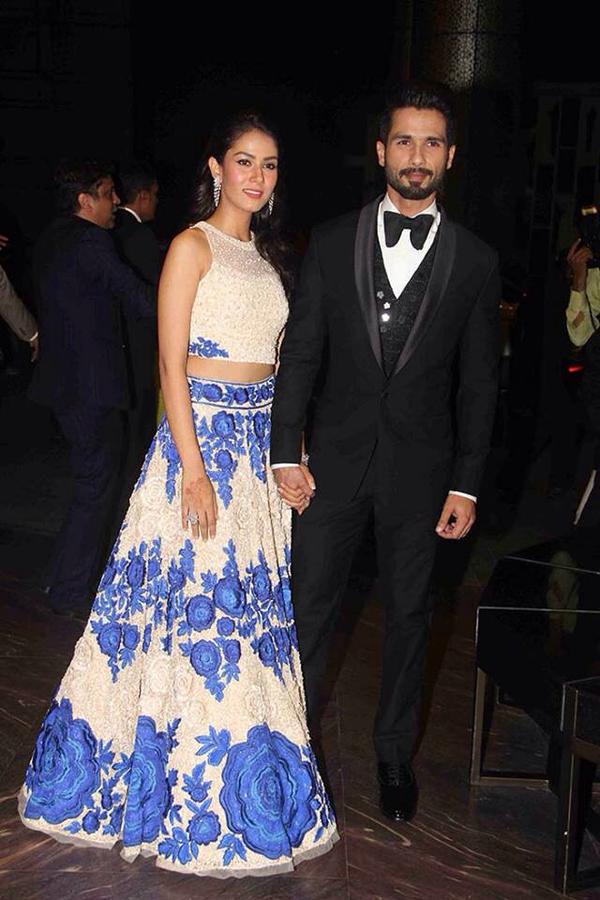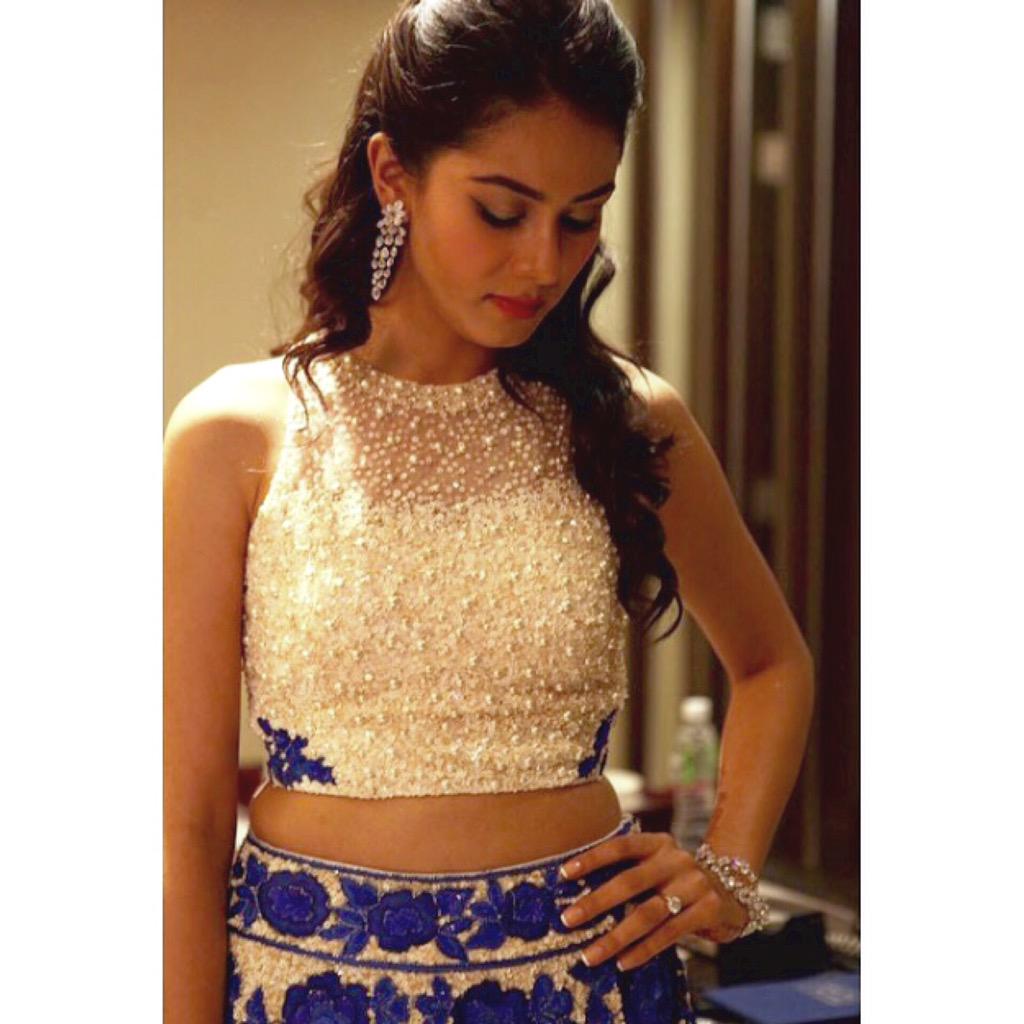 I think Keeping things simple all along worked well in Mira Rajputs favour and she stood out as one of the most elegant celebrity brides. Which bridal outfit of hers are you loving the most?