10 fashion jewelry trends to try in 2015
When it comes to fashion , accessories are as important as clothing and if you want to stand out from the crowd accessories are your best cost effective bet. Today i present to you some super simple yet versatile pieces of jeweler you should definitely consider adding to your jewellery stash.
1.
Double rings :
Cocktail rings are great but there is something more spicier available now , the double rings. Studded in zircons or pearls, double rings now come in a huge variety of shapes and sizes . You can find a perfect one to blend with your outfit as you now find double rings in both ethnic and western styles. You should definitely invest in one if wearing more than one ring is your thing. (read detailed post on linked rings
here
)
2. Double side studs:
If you like studs you should consider trying out the new double side studs. These dual studs cover ur lobes from two sides as the small side comes in the front while the big one goes back . If you love pearls get the Dior dupes like now!
3.Body chains :
This trend has been around for quite sometime now but i havent tried it yet. These cross body kind of chains worn over clothing definitely are eye ball grabbers and iam going to get one for myself soon. This is one interesting piece of jewelry you should invest in for a chic summery look. These chains go well with beach wear and formal outfits. There is a lot of variety available when it comes to chains, there is shoulder chains, full body chain, belly chains and more . If you are a beginner start off with a shoulder chain.
4.Head chains (hair jewellery):
The head chains are the more modernized versions of matha pattis . while matha pattis are kept away for wedding this simple chains can be worn even at non wedding dos. Depika padukone wore a heavier version of these head chains to an awards night made us sit back and take notice of this trend. if you want to go for a fusion of western and ethnic wear this piece of jewellery can be your crowning glory .
5. Palm Cuff
: Why should your palms be left out ? Bejewel them and stand out . Palm cuffs are more like palm rings which are pretty uncomfortable to carry off but who cares as long as you are grabbing eye balls. Sonam kapoor and many other celebs have been spotted wearing this. If you want to sport this trend start off by using your re sizable bracelet around your palm.
6. Midi Rings
: Midi rings are basically rings worn on top or below the knuckle. These rings are best worn stacked , one or two on each finger. It is important to get the size right with these rings so it is best to buy these offline.
7. Ear Cuffs:
Celebs are are rocking them and these cuffs are here to stay. If you havent got yours yet go get them now. These cuffs are available online for as cheap at 400 a pair. Invest in one and discover an effortless way to stand out.
8. Shoe chains :
Cant afford new shoes? Dont worry, even if you dont have place for anymore shoes ? just buy these shoe accessories and give your old shoes a make over !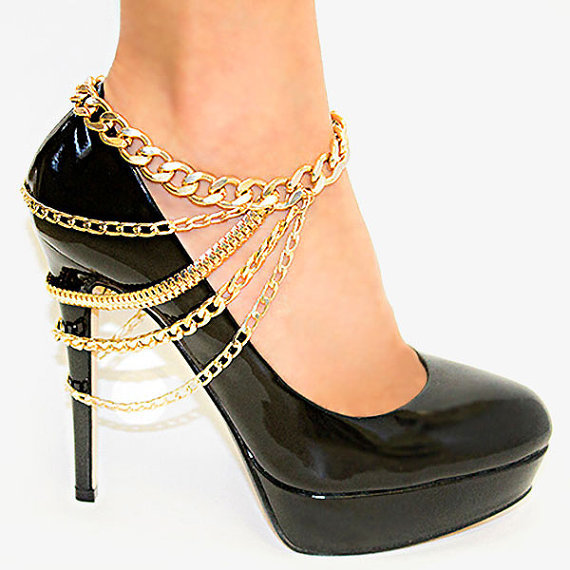 9. Nail Rings
: So those time consuming nail arts arent your thing? you can still turn the spotligt on your nails all thanks to the all new nail rings. They look super chic and are available in a wide variety of colours, sizes and designs. They ay come across as a little uncomfortable in the beginiing but when you have worn it twice you will love the ease of this trend. Make sure you get the right fit or your nail rings may fall off.
.
10
.Armlet or an arm cuff
: bands worn around the arm isnt anything new especially to south India. The bride wears it but now you have simple funky arm bands which can be worn by anyone. just get one in gold and jazz up your party look.
All these trends can shopped cheap on ebay, amazon or instagram sellers. if you need help with styling them or buying them mail me or drop me an @ reply on twitter @theonlytash
So which trend are you looking forward to try first? Iam crushing the nail rings!
stay stylish
Love KJ