5 DIY outfit Ideas for your Mehendi or Sangeet
I had to attend a wedding recently and i couldnt decide what to wear , an anarkali or a chudidaar dress. Anarkalis are quite a rage and everyone would be wearing one so i settled for a straight cut chudidaar suit. At the wedding i was shocked to find a girl wearing an exactly same anarkali like i was planning to wear. I thanked god for not having turned up in the same anarkali.
The thing with DIY outfits is that it allows you to explore the creative side of you along with helping you cut down on cost. Also the probability of someone turning up in an outfit exactly like yours is very low. Since mehendi is a low key affair spending less on a mehendi outfit makes sense. This is also a function where you can add personalized touches with decor and outfit.
To design yor own outfit you need a vision because having the colour pallaete and cut in mind always helps . Here i present to you some DIY mehendi outfit ideas you could try out . You can try them as is or just take inspiration and and play more with colours cuts and fabrics. These outfits can also be worn for your engagement or sangeet .
1. The Yellow and purple anarkali:
This is my favorite DIY idea and i am wanting to replicate it for quite sometime now. Wearing chudidaar isnt the best idea for mehendi but if you do want to wear an anarkali this colour combination fits the bill.
Not all tailors will be able to stitch a kalidaar anarkali for you so go for an umbrella cut one. Any local tailor can definitely stitch up an umbrella style frock anarkali .
how to Replicate:
Get Half meter purple benaras silk for bust and maybe around 1-2 meters for the borders. Yellow georgette of about 3-4 meters for the flare and 2 meters for the dupatta . 6 meters american crepe or santoon cloth for lining and chudidaar bottom . 1 meter each red and gold thick lace and thin gold lace of about 12 meters . small round Gold buttis or patches to stick or sew on the flare part.
Keep the sleeve length as is or go sleeveless. Also latkans at the back is important. You can also go for a chiffon dupatta instead of Georgette one. Even for the flare dont restrict yourself to georgette go for embellished net or chiffon but make sure the lining is in a richer cloth as it will be seen.
2. Blue jacket Lehenga:
When i spotted Kajal aggarwal wear this Sanjay garg jacket lehenga i knew i wanted one. The styling was so simple yet striking that i knew i would definitely style it exactly this way. This jacket lehenga is perfect for a brides mehendi . The jacket silhoute allows the bride to skip a dupatta which is abrether when yopu have heena on both your hands. also just a mang tikka means more comfort but ofcourse you should go for shorter sleeves or no sleeves at all for mehendi. The lehenga makes it perfect for a little dancing on your mehendi night. You could also wear it to someone elses mehendi if the function is a huge one.
This is the easiest style of lot because no appliques or laces is involved making shopping for this more easy. I have already shopped for blue brocade fabric for my jacket and iam using a blue net lehenga i already own with this jacket . simple no?
how to Replicate:
Get about 3 meters of brocade silk in blue for the top and plain raw silk for lehenga . If you already have a lehenga in a different fabric or colour then get brocade in the same colour for the top . Also you can try colour blocking with lehenga and jacket in here . Try short sleeves if you are wearing for mehendi also try a different neck if yo want to flaunt some neck jewellery .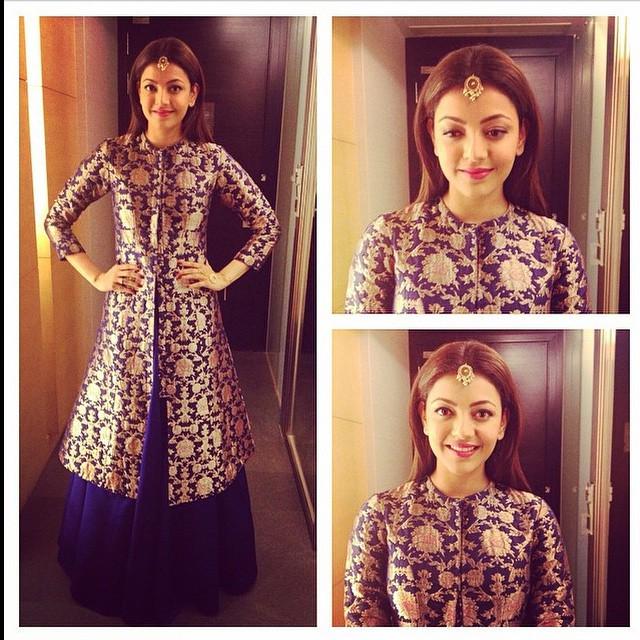 3. White brocade lehenga with green dupatta and blouse:
Malaika Arora Khan wore this lehenga for the wedding of Arpita Khan in taj falaknuma palace. This is designed by Seema khan and well everyone is free to take inspiration .
how to Replicate:
5 meters of white gold brocade for lehenga . If you have green blouse use it or get green brocade for blouse. plain green chiffon for dupatta. Get gold shimmery lace attached at the bottom of lehenga. since green lace shown here can be difficult to find get a green velvet strip attched and get round gold motifs stitched on the velvet (optional. ). Thin gold lace for the blouse and dupatta. If you can find it then do put a neon orange gold lace all 4 sides of dupatta.
Refer the middle vikram phadnis lehenga for more ideas with borders of lehenga (click to enlarge)

4. Navy velvet lehenga with jacket :
This style may seem a little difficult but if you have good tailor and a worksman who can do zardosi work then this is definitely doable. I love this style for its ease and regal charm . The bare belly buton is a nice touch to this ethnic style. You could try this as is or also replace the lehenga with cropped pants to make this outfit more mehendi appropriate.
how to Replicate:
5 meters of navy velvet and shimmery gold lace for the lehenga and 3 -4 meters of biege shimmer silk for the jacket. You may want to play with the neck design a wee bit and also with the sleeve size if you are planning this outfit for mehendi and ofcourse with this silhoutte going dupatta less is an easy option. You can easily skip the zardosi work on sleeves and neck and replace it with gold sequined lace but for the lehenga you should definitely get the zardosi work in gold done from a karigar . You can also leave the lehenga plain if your function isnt too big or go for attaching embellished motifs and buttis in the place of zardosi work.
If this silhoutte and design interests you then you might want to check out blogger Hamis version of this lehenga on her blog Fashionmate
here
. She has replicated this style beautifully and has given detailed instrustions too.
5. Pink Gold lehenga:
If you want to wear a lehenga for mehendi then it should definitely be light . This pink lehenga is perfect and the gold sequined blouse will give the required bling. Ofcourse you could play with colours and switch the lehenga colour from pink to orange to suit your needs.
how to Replicate:
Get a gold sequined cloth of about a meter for the blouse or just hunt down for a gold blouse in your or your moms wardrobe and use it!. For lehenga get pink raw silk or chanderi and borders in shimmery gold and black velvet . Use the same borders on a pale gold chiffon dupatta . Your outfit is ready. Make sure the blouse is hatke and stands out , go for a ribbon cut out or latkans at the back.
Dont forget the details... latkans for the lehenga and maybe even dupatta is important. Get some pre embroidered patches in gold (buttis) and stick on the black lace with fabric glue.
Also keep in mind you need to shop for the lining.
Add caption
Designing your outfit is a risky affair for sure but here are some more tips for you
For a perfect DIY outfit all you need is a decent tailor and some good fabric stores. In Bangalore by lanes of commercial street is the best place to buy fabric , latkans and lace for ethnic wear. You can also check out chikpet for silk fabric.
With DIY it is always good to skip the intricate detailed work and go for rich fabrics, layered borders and play with colours.
If you are investing a lot on your DIY outfit then get the tailor to make a trail piece in cheap crepe or cotton material only after you are satisfied get the final outfit stitched.
carry photos on your phone to show your tailor exactly what you are looking for.
Ask your tailor properly of the meters of cloth required for your height and style before heading out to buy.
If you dont get fabric in your desired shade or colour then get it dyed. DIY outfits are all about colours , dont compromise on that , not one bit.
Make sure the Materials you are buying is of high quality. Even in stuff like brocades , nets and velvets a lot of varieties are available. To make your outfit look amazing the fabric has to be of good quality.
If you are not a fan of patchwork or appliques then find a local kaigar who can do seuqins , zardosi and embroidery for you.
For more inspiration check out fashion week collection of inidan ethnic designers.
go for rich fabrics like brocades and velvet instead of going for hand work . This cuts down costs and the risk also goes down .
Make laces your best friend. 2-4 layers of lace is enough make your lehenga and dupatta look regal. Go for laces in gold, or silver along with velvet strips .
If you want to give this DIY a try at first then hunt down your moms wardrobe for unused sarees and get your outfits made from them.
If you have some good dupattas with just gold or silver work then get an outfit made in similar colour and use the dupatta to save costs.
If you want your outfit to flare out then get a layer of full length can can skirt attached underneath your lehengas . The can can can give the whole outfit a more volume
All these outfits can also be worn by sister of bride or groom on the wedding day. Do these styles interest you? which one is your favourite please do comment.
If you want help with replicating these styles then mail us or tweet to me @theonlytash. I will be more than happy to help.
Stay pretty
Kamar Jahan